Smash or Pass, Hot or Not, Yay or Nay, Hao Bu Hao…we don't have a name for this segment yet, but you get the damn point! Me and Jeff picked out 5 interesting kicks that surfaced on the net this past week and round tabled a few of our peeps to give us their opinions on 'um.

Peep Below.


Greedy Genius Cool Breeze Paulo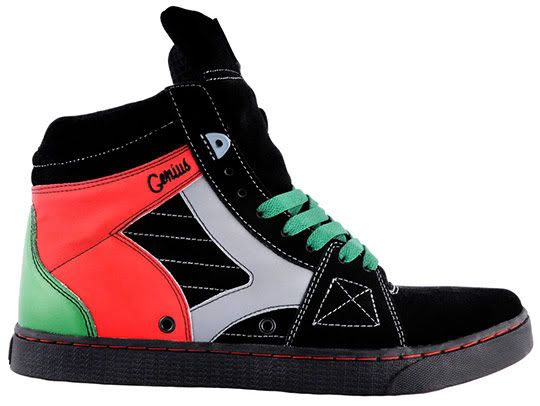 More Info:HSB
Me: I'm in there. All Day. Anywhere
Jeff: I'm smashing and I'm a let niggas know I'm smashing!
Sewz: Yeah, I'd rock 'em with some black jeans and a simple logo shirt. Just to avoid "doing too much."
Coburn: No way would I ever cop. Gross.
Griddy: …not my cup of tea. Not Coppin.
3C v 2N
Supra Cruzier Low Grapes Colorway

More Info:Ctothejl
Jeff: I'm not smashin'. They're too much like the 5's. I'm not tryna be on my Syracuse shit. Damn Supras, you finally let me down.
Me: HELL YEAH! I don't even care that they look like 5s. I'm smahsin' these. Hard. I'm madd the toes look like Dunks tho.
Joel: Dope sneaker. I rock purple and that green is tough. I skate but never in white sneakers so these are strictly for getting fly, no shredding in these.
Steve-O: I like the color way for these but I hate low top sneakers, so I probably wouldn't buy these.
Jenny B: Definitely no, they look kinda grandma-ish
3C v 2N
Gourmet Holiday 2008 Footwear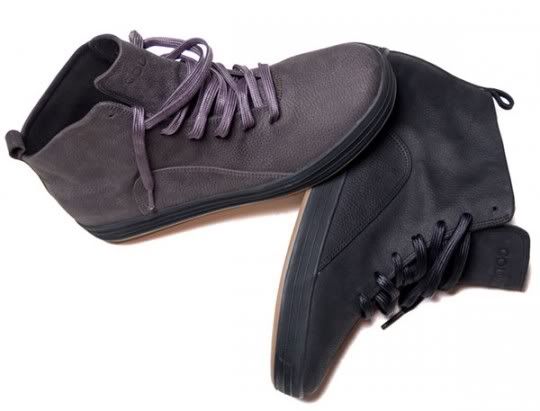 More Info:HSB
Jeff: I'm not smashing and I'm gonna be mad @ my manz if he smashed.
Me: Uuuuh, I'm doin it. But only on some grown and sexy vibe. You know, like pea coats and shit.
Steve-O: I like these. They are nice and clean. And they look better than the Jordan 10's.
Pierre: not even close to my style. No cop
Noelle & Ron'nise: these are wacc...they look like somethin' my grandpa would wear. Ron'nise said they look like playboys...I don't know if that's the name of the shoe, but she said that's what her father calls 'em.
2C v 3N
Orchard Street x Reebox Re-up Lux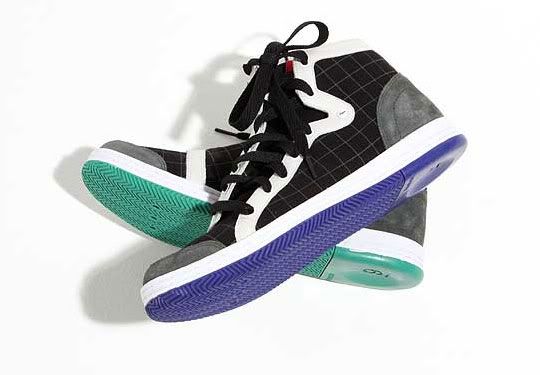 More Info:HSB
Me: I'm Good. These aren't for me. But I respect the originality.
Jeff: I'm not smashing, too much...but nothing really significant going on.
Coburn: Good use of color ways and interesting laces. A dope pair of sneakers. Coppin.
Griddy: These look kinda hot. I'd consider them.
Steve-O: These are plain wack.... Next!
1C v 3N v a Shakey Choice
Louis Vuitton x Stephen Sprouse

More Info: SwaggerDap
Jeff: I might smash just to see what they working with, but it's either gonna be a big L or I'm making History. High risk.
Me: No Way. Goodnight
Coburn: Too wild and eye catching I can only imagine the price tag. Not copping.
Pierre: Looks like clownwear. No cop
Sewz: These make me wanna barf.
Joel: I don't even want my chick to rock these. Honestly names don't mean anything to me. It's all about design. These look annoying to put on, take off and walk in. If they are for girls I can dig it on some photo shoot moves type stuff, but wearing them is another thing...
Steve-O: These are dope. I'm not sure of whether I would really wear them. But they are def. something dope to have in the stash.
Griddy: These are different. Some Kanye / Pharrell shit. Not for me though. No Cop.
Jenny B: By far my Favorite!! And they're Louis Vuitton, that's so hot. In loveeee.
Noelle & Ron'nise: these are out of control...they're horrible. Ron'nise said they leave a bad taste in her mouth. The colors don't go together everything is out of sync - and to her that's the ugliest sneaker. There is too much goin' on and it doesn't all go together.
..….. And she said that they're not just hi tops...they're super hi tops (lmao)...and she doesn't know where the metallic gold strap are comin' from and there are too many of them...maybe if they were low cut they would look better
3C v 7N
---End-_
Well…there you have it.
Feel free to add your opinions in the comments!
-via Meez
The Round Table
Me? I'm the CEO and Cofounder of this damn SwaggerDap thing, dummy.
Jeff B. – aka SWaGGa - is a dude who feels like Kanye in the "Through the Wire" video cuz we just gave him his SWAGGERDAP chain. But still wishes he can eat seafood. No Entendre?
Griddy is a devoted Sneakerhead and clerical associate for the Environmental Control Board in NY.
Coburn is a "super intern" for
Offshoot Communications
, a full service sales and marketing agency that specializes in street wear and high end fashion
Pierre is a web
entrepreneur
and aspiring actor from Brooklyn, NY.
Steve-O is Co-owner of
GFCnewyork
, a Marketing and brand strategist company, and
Laced Magazine
, a Footwear Lifestyle magazine.
Jenny B is an aspiring fashion designer from Chicago, IL
Noelle is a public policy/political science major. She ultimately wants to serve her community as NYS legislator and take it from there. Ron'nise is a psychology major and minor. She plans to be the Flyest physician assistant of them all. For the Kids!
Sewz Uno is the Ceo and Founder of Make The Cut Crew
Joel Nealy, aka FAME, is a Graphic Designer, Web Developer and Recording Artist. Check his
music
out.