Wrapping up the 3 part interview I had with Wale, here we played a little word association and Wale shares his love for his "FTSwindle" phrase.

If you are playing catch up, here is Part 1 and Part 2 of the interview.


SD:
Ok, so to wrap up I want to do some word association. Which is …
Wale:
I LOVE that. I know what that is. Every time I meet a girl, our 1st phone conversation, we play word association. To kinda see where they're at.
SD:
Haha, Ok, let's start then.
Wale:
(Leans in) Go.
SD:
DMV (DC Maryland Virginia)
Wale:
Home
SD:
Interscope
Wale:
Home (laughs)
SD:
Go-Go
Wale:
Percussion. Love it.

SD:
(NBA) 2K9
Wale:
The illest.... rapper to play that game!
SD:
9th Wonder
Wale:
Difficult
SD:
Nigo
Wale:
Amazing
SD:
Eugene Khan
Wale:
…….. Who's that?
SD:
Owner of Hypebeast
Wale:
OH! See you got the owner of Hypebeast, hah, my man ….. Thank You.
SD:
Swagger
Wale:
The denim or the word?
SD:
The word, not the brand, my bad.
Wale:
RIP
SD:
FTSwindle
Wale:
(almost gets up) Isn't that amazing though! Right? It is right?
SD:
It really is, word spreads quick.
Wale:
Ok, just wanted to make sure I wasn't the only one. It really is amazing, this tour, the subplot on this tour is to build FTSwindle. Just make it so great.
SD:
Haha, I mean it's only been a week and my boy was already saying to me off of Twitter.
Wale:
Ok so like, what happened this week? …. You go to Syracuse?
SD:
Yep

Wale:
Ok so what do you say when Devendorf hits that amazing shot. You're in your dorm room like "Yes, Fuck yes!" then the refs come out saying "Hold on…" and you're just like "FOR THE SWINDLE!" so yea it just fits sometimes. It's almost like being chopped and screwed. You know a girl comes over, she's all ready, you go and reach for the jimmy hat and she's like "What are you doing? We're not doing anything tonight"
SD:
For the Swindle (FTSwindle is a Twitter phrase made popular by Wale)
Wale:
For the Swindle. Exactly. (laughs) Like why are you even here? Oh same thing like after you do it, and you're just trying to go to sleep, or catch an L, or eat a sandwich, you know just be alone! And she just wants to get all comfortable ….. For the Swindle.
SD:
Hahah... Ok, and the last one I have is Wale
Wale:
……….. Pray for me.
SD:
Indeed. Thank you very much.
Wale:
No doubt. Hope you enjoyed the interview as much as I did my man.
SD:
Lastly, can I just get a quick picture for the blog.
Wale:
Of course. Neck up, Neck up. I look crazy right now. I don't wanna look like I'm trying to be shady but I just … yea.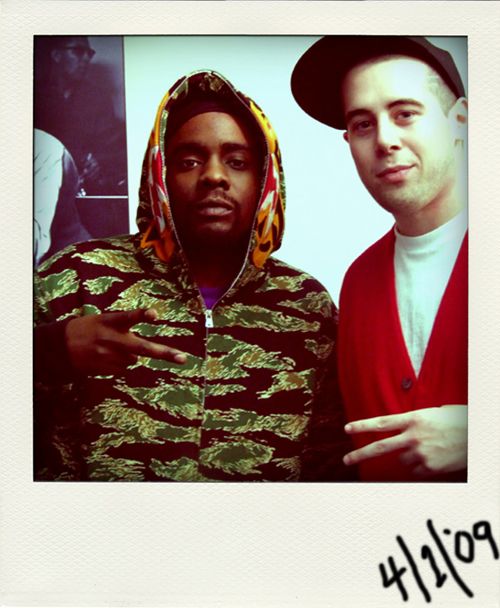 That wraps up the interview, thanks again to Wale and his crew, all very cool people.
Be sure to check out Wale on Twitter
@waleDC
as well as his
hypebeast blog
.
-john-