If you are following either of us on Twitter (see sidebar to the right) then you may have read that over the past weekend Meezy and I were competing in our school's business plan competition. Syracuse has a very prestigious Entrepreneurship program that hosts a competition each semester where this year there were 49 competing teams.

We blew by the 1st round, which narrowed it down to just 10 teams, and then Meezy got us right into the final 5 with a great elevator pitch. Then it was down to the finals ....


In addition to Meezy and myself, we had some help from our new teammates. That's finance wiz, Courtney above, reading over the 50+ page business plan.


Then we have Alex, who can tell you about our revenue drivers for days ... and you'll still be begging for more.


Last up is Lindsay, retail major who has already worked for the likes of Marc Ecko, and for some reason looks really scared and or nervous in this picture.


Getting some final practice in ...


... then I took a picture of this ceiling that I've always liked. Idk why.


Can you say "Game Face" ? Ice water in these veins.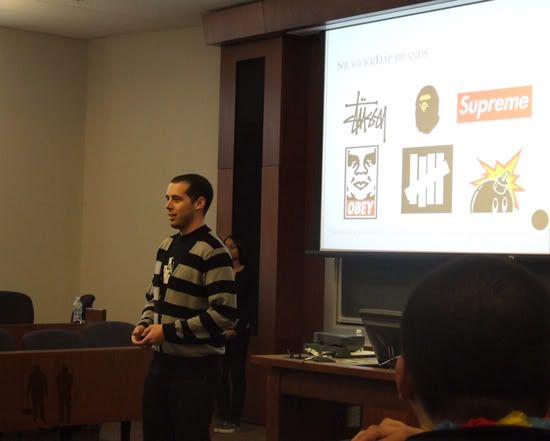 Then we schooled the judges on streetwear, the people buying it, our blog (Yom and Joan, you got shouted!), and how SwaggerDap will be making millions in quarter two of year 3 of operations.

The judges were very impressed but we ended up falling just short, and finishing in 2nd place. Wack indeed, but considering we beat out 47 teams and over 240 other students, it's nothing to be ashamed of.


One last team picture.

Thanks so much to everyone who helped and supported us on this journey, that is honestly just beginning so be prepared. Special thanks and love goes out to Courtney, Alex, and Lindsay who went from skeptical to believers to dedicated members of the SwaggerDap team. You guys were amazing.


49 to 10 to 5 to 2. Proud but not satisfied. Look out for us.


-john-