So yeah...you know that office we took a picture in way back? That's actually John's Dad's office in CT. But while we're in school we obviously need a more official location for ourselves right?

Viola...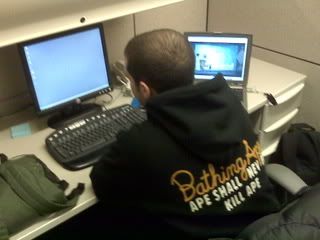 It's more like a cubicle but hey, home is home - and you know we're gonna Swag it out.

Oh yeah...IF it was a Sneaker/Shoe/Whatever battle. John definitely won. Or its more like I threw in a white flag.


John = Some Halloween Blazer Shit "You wont see these at foot locker son!", Says John
Me = "On my Joe Budden" Timbs.

I mean...the weather man said it was gonna snow today, i got scared, but FxCk it. The man that will wear his kicks in the snow is a lot Flyer than some chump in timbs (to an extent. Cuz we know theres people who have no choice)