Last week at the Score! event in Brooklyn Yard I was taking pictures of people all damn day for the lookbook. But when Lesly walked by it was just a given that he had to be part of Faces in the Crowd. His entire outfit was well put together and I instantly fell in love with the shades he had on, only to be soon distracted by the vintage doctor's bag he had in hand. Well done sir...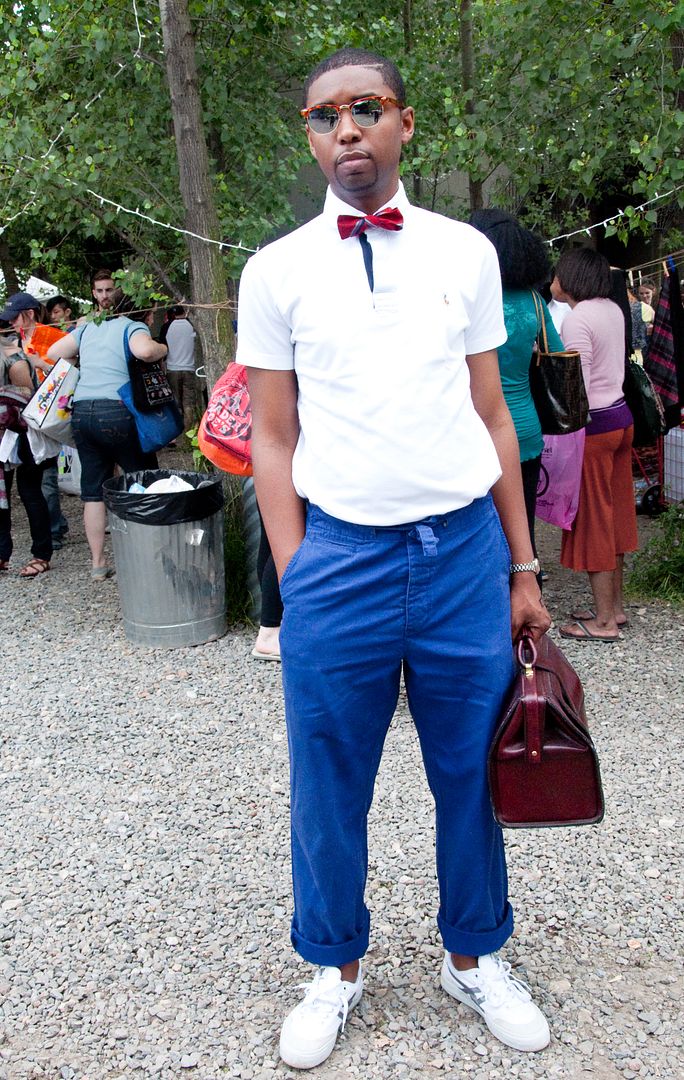 Get Closer to Lesly's: Glasses & Bowtie / Doctor's Bag
Name:
Lesly Remy Jr.
Age:
lol
Occupation:
Sartorial Advisor/Dj/Producer
Favorite Brands:
Ralph Lauren, Freemans Sporting Club, Phillip Lim
Wearing:
Bow Tie/Shirt/Trouser all by Ralph Lauren, Bag by unknown, Shoes by Warrior
Next Fashion Purchase:
colored suede wingtips/brogues, impossible to find.
Best find at the Score! swap event:
I was hoping to find more mens accessories i.e. watches, tie clips, belts etc. however i was very satisfied with picking up a book about ninjas and another about Croatian art treasures.
Thanks again to Lesly for taking part in Faces in the Crowd. If you dig his style or are a fellow Polo fanatic, be sure to check his Twitter,
@blacklauren
, and Tumblr,
mrblacklauren
---
PREVIOUSLY - Faces in the Crowd: Joshua in Nolita
-john-