Super has been killing it over the past couple of years, and with this Spring/ Summer 2010 collection, are showing no signs of slowing down that pace. They've cut some of the loud and 80s inspired silhouette from the line, and added 4 new, simple, and elegant models.


Their staple models of Classic, Flat Top, and Ciccio (above) get the safari/ cheetah treatment for the Summer. Need em.

On to the new fellas...


"

The People:

slightly smaller-framed and thin yet meticulously designed piece which combines smooth curves with sharp and sudden angles and almost circular lenses with long geometrically squared-shaped arms.
The People is able to satisfy a large variety of different styles (thus the name), simultaneously be a chic and tasteful gentlemen piece when in havana glitter; or be a unique retro look when in our jungle Summer Safari version; or a simply and sensually feminine when in our light savannah acetate and lens."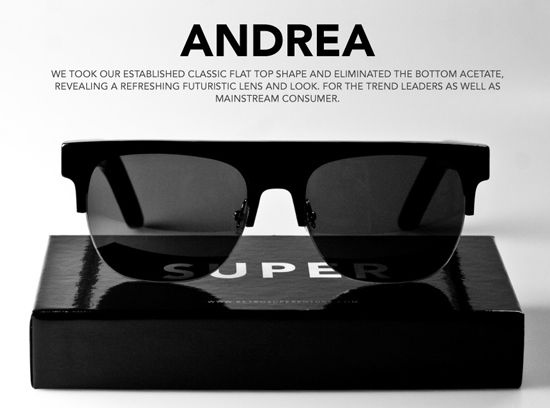 "

Andrea

: surprisingly simple yet stylish piece of unisex eyewear. This specific design came about while researching an avant-garde look that would simultaneously be an instant classic, a piece that was cutting-edge and cool enough for the trend leaders as well as a more mainstream consumers.
We therefore took our established classic flat top shape and eliminated the bottom acetate, revealing a refreshing futuristic lens and look. By combining classical acetates such as our signature Havana and Summer Safari tortoise combos (just to name a few) we gave it a very chic look while stripping the piece to its essentiality and function. Less is more."
"

Lucia

: designed for women, characterized by a petit and extremely thin frame, yet boasts an extremely strong design and Giotto-esque round lens.
This is amongst the most experimental of our season's designs, nonetheless maintaining a surprising classic simplicity.
Feeding the fashion-hungry women, this sunglass comes in a selected variety of combinations and is of an extraordinary elegance and lightness."
"

W:

Inspired by the unique style of late 70's italian design, such as our favorite, Marcello Gandini, to name one.
The W represents our retro-futuristic style to perfection, yet also offers a basic simplicity in its design. The W was designed all in one line, maintaining all angles square, to the point that the arms don't even curve. It is sought of as the new classic shape of the future."
While the Classic and Ciccio are still their strongest pieces, the People and Andrea are some great additions to the line. I can see the People sticking around. The Lucia would look perfect on the right ladies and the W is just screaming to be in a music video. Mark my words.
Each comes in a bevy of colors, so be sure to check the entire collection through the
Super site
.
-john-